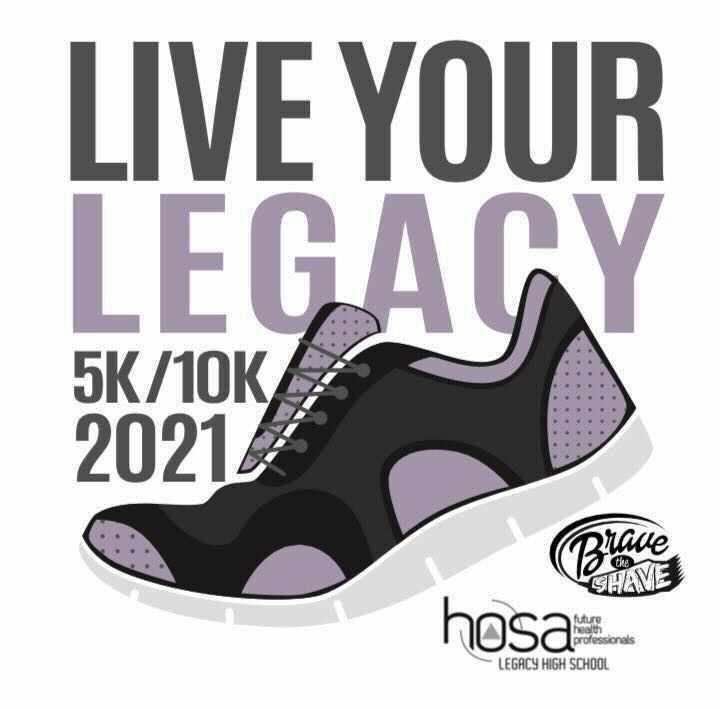 Legacy High School HOSA (Health Occupations Students of America) is excited to announce the 3rd annual Live Your Legacy 5k/10k walk/run! This event is being held on Sunday, April 25th, at the Sertoma Community Center in Sertoma Park, and includes a 10k run, 5k run, or a 5k walk. Registration will begin at 1:30pm, with the event starting at 3pm. We will start with the 10k race first, followed shortly by the 5k run, and starting the 5k walk immediately after. The course of the race (pictured below) will have the 10k participants running out and back first, and then completing the loop. The 5k walkers and runners will both complete just the loop. This event will also include fun family activities such as face painting, coloring sheets, and music, so make sure to bring all the members of your family!
HOSA has dedicated their efforts to fighting childhood cancer and will do so this year by supporting Brave the Shave's Family Fund, which was created to help families directly in North Dakota who have children fighting cancer.
So strap on your shoes and gather your friends! Sign up as an individual or team, and challenge others to participate or compete as well! There is an event for everyone, and who wouldn't want to support kids with cancer while participating in a fun family event?! This is a very special and one-of-a-kind event you won't want to miss! Plus, you'll receive this year's 2021 Live Your Legacy T-shirt!